During the same time of my life I developed a growing interest in drag racing.. so a friend of that time 'Al', and myself built a 'D' Gas 56 Chevy. I raced the car at Lions Drag-strip of Long Beach and got a trophy.
My friend John Meadows bought a brand new 1963 Plymouth Savoy Max Wedge car which was way faster than anything we could build in our garage. All we did to the car was add fender-well headers, a 456 rear end gear and cheater slicks. We never got beat on the boulevard or on the drag-strip. It left a lasting impression. It looked identical to the red '63 shown above.
The mid 60's saw the whole hippie movement come in so all of a sudden Super Stock cars were out and V.W.s were in. My interest in cars subsided altogether as I got swept away with the movement and into a Volkswagen (so-long Mopars)
It wasn't for quite a long while that I really got back into Mopars again, not until the early 80s and after I had acquired a family did I begin restoring my first Mopars. At that time I bought several '64 Plymouths out of the Recycler. I scrounged and saved on a tight budget to build my first Max Wedge clone. I wanted a sedan but looked around for about a year before giving up. During that era it seemed that no one had any interest in these cars so there were virtually none being advertised. When the car was done we got picked up by Popular Hot Rodding in the November 1980 addition.
Here are some shots of my early "house projects".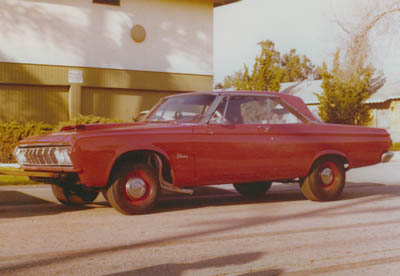 My first and second restorations, a 1964 Plymouth Belvedere hard top (above) and a 1963 Dodge 330 sedan (below)
The black 1962 Plymouth Savoy (top right) with blue interior was the 3rd vehicle I'd restored for myself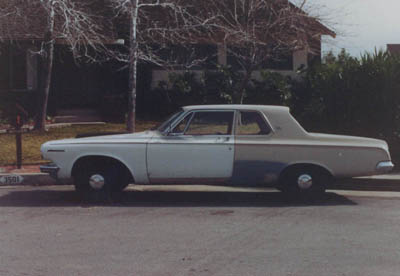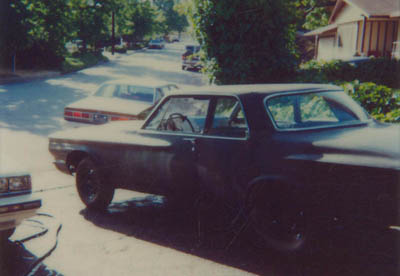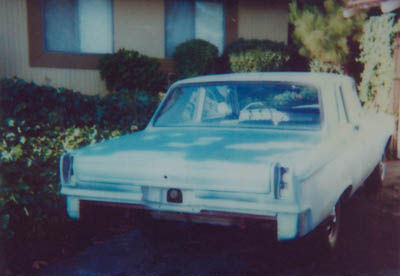 By now other people began to express interest in having work done.
After doing all this work out of my garage it started to become quite apparent that I needed some sort of a shop. I didn't want to wear out my welcome in the neighborhood so I got a little dump in Sun Valley CA.